Titanium Steel Crow Raven Skull Necklace Pendant
Style: Necklace
Conditions: 100% Brand New
Quantity: 1 PC
Q: What is the conversion between inch and mm?
A: 1 inch = 25.4mm 1 mm = 0.04 inch
Specification
Chain Girth: 60cm * 2.5mm ( L* W) / 23.6″ (L)
Chain Extensions: 0 cm/ 0″
Pendant: 33 x 14 mm/
Weight: approx. 14g
Color: Silver
Material: Titanium Steel
Packaging: Plain opp bag
Tag: None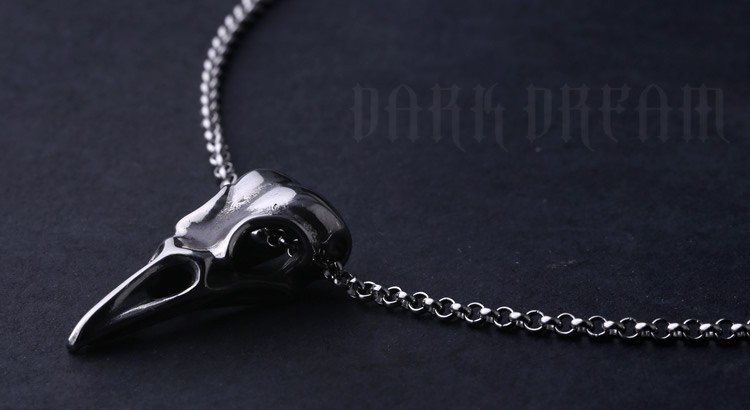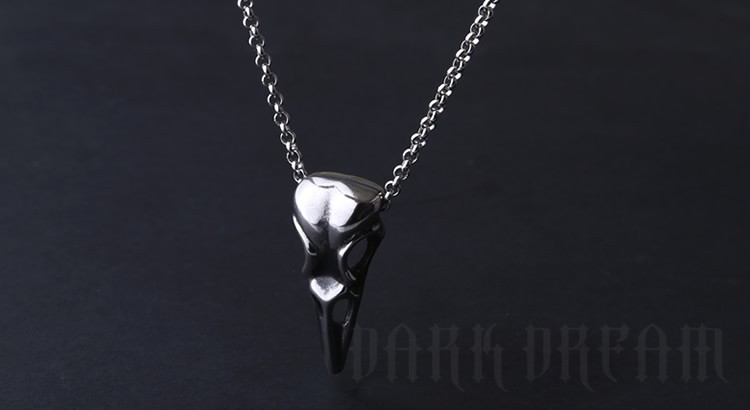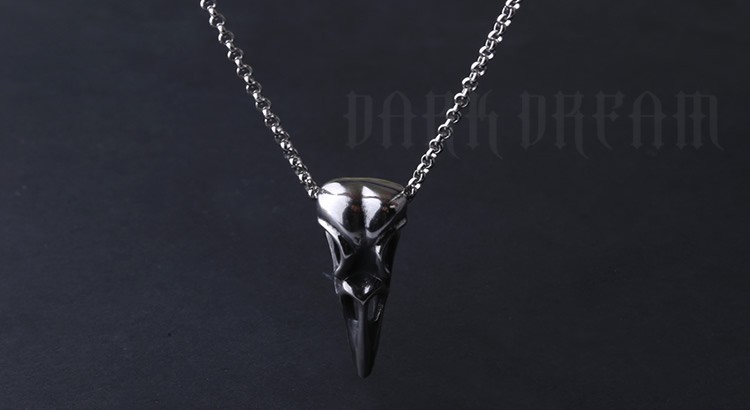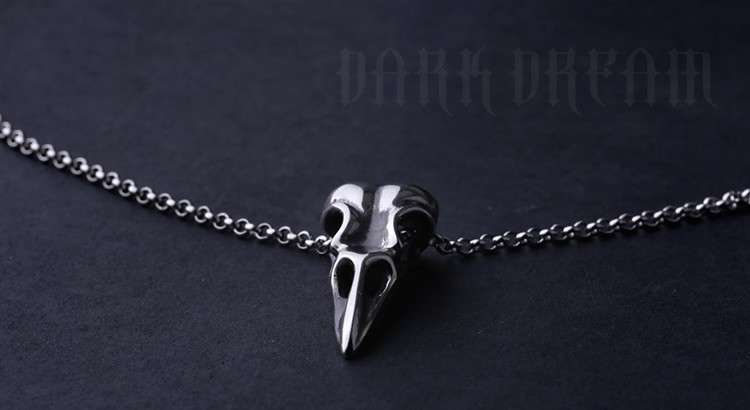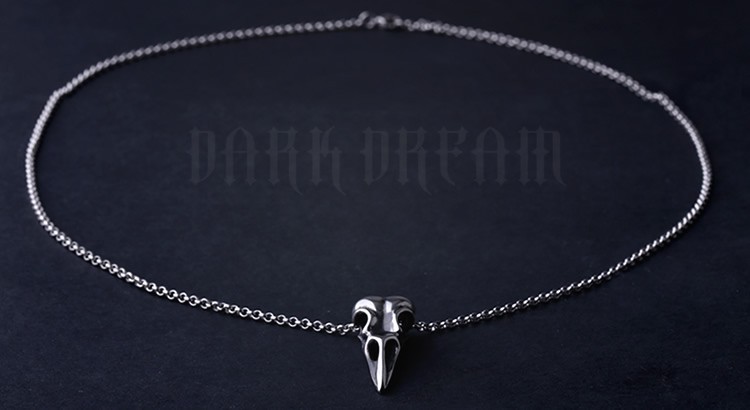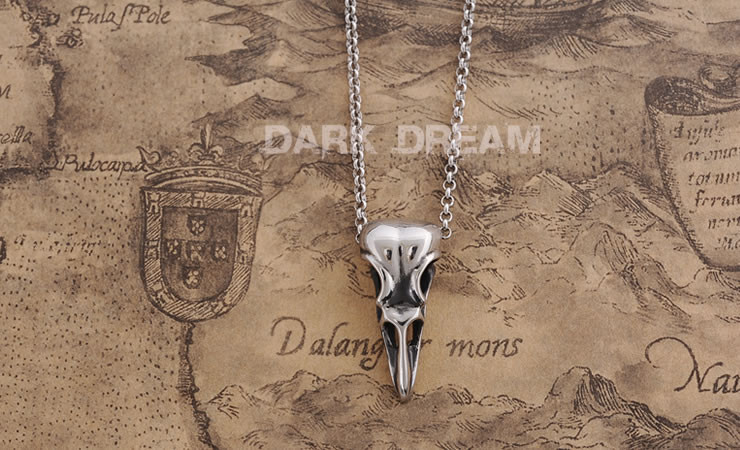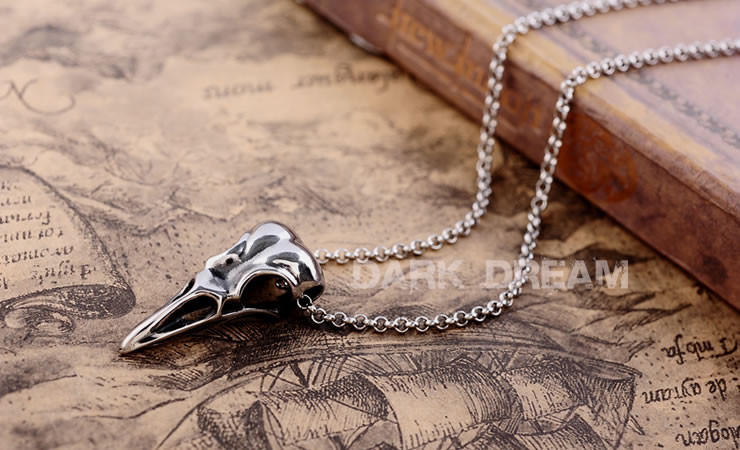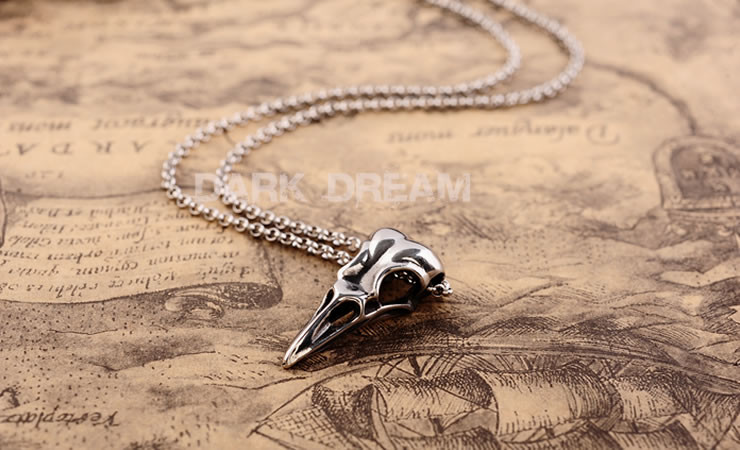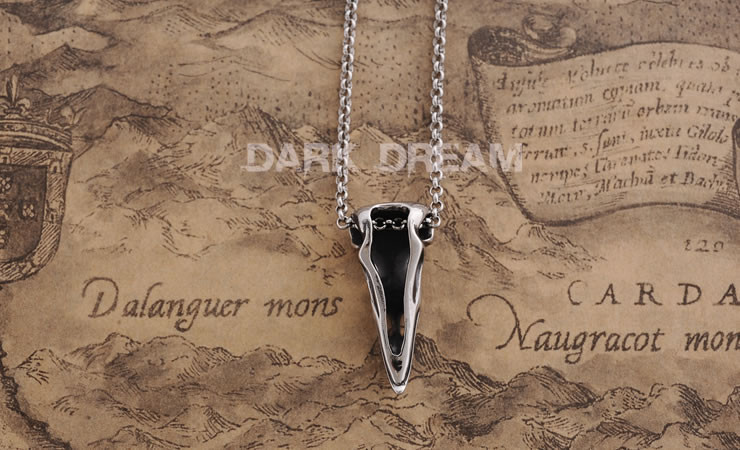 We all have a different neckline depending on what your item of clothing is. This is going to make a difference on which necklace you should choose. A lot of us youths and teenagers are guilty of trying on three or four skull necklaces before we really settle on the right one and figure it out. That's because the placement of your necklace is really important and can make or break your look. We're going to discuss the tips on finding the right raven skull necklace for your neckline.
Finding The Right Raven Skull Necklace For You
There are some guidelines to think about when you're shopping for the perfect piece. The v-neck is very flattering and you can either go with a short or a long option. Both really work well. You should pick kind of a shorter V style necklace that mimics the shape of the v-neck, which is great and just simple.
If you want to look longer you can put a longer skull necklace that will give you a simple layered look. You don't have to have some kind of crazy background in jewelry intelligence to figure it out. Don't shy away from wearing a longer necklace if you have a lower neckline as it doesn't leave a lot of your neckline exposed. You can fill that up with a wonderful raven skull necklace.
It is important that you place it right in that center area for everyone to see it. The neat thing about this necklace is that it can either be too long or too short, depending on your preference. But this cannot be possible if you don't know your actual balance point for your necklace. Understand the importance of balance points will help you determine the right skull necklace for you.
Balance Points.
These are two points that we measure on our chest to help us determine the length of necklace or neckline that's going to be best suited to you. The measurements are used to determine the balance points on your chest. This is a formula that's been around for a long time.
The first thing you need to know about balance points is that they focus on the shape and length of your face and how that can determine what's going to be best suited for you in terms of necklaces or necklines. To know your balance point, you need to take the visual length of your face. If you have a big fringe you'd do it from the top of your forehead to your chin.
The length doesn't have to be perfect and you don't need to get a ruler out or anything you can use both of your hands. Take that length and move it down to your bottom of your chin and place it on your chest. That is your balance point.
Conclusion
Raven skull necklaces is a perfect signature piece for everyday wear. When working on your neckline and preparing with your accessories, is important to make sure you don't mix jewels of different colors. Always be aware of the rule when it comes to your neckline and the things are going to look great on you. I hope that this article will help you find the right necklace for you.
No goth outfit is ever complete without a classy piece of crow skull necklace that finish your look. But choosing the right style of necklace to match your outfit to its neckline, can be a little bit tricky. Whether it's round neck, v-neck or scoop neck, it can sometimes be difficult to know which necklace or what accessories to wear with that style. This is really a dilemma for some people. Here are some tips for you today on matching the right skull necklaces with your neckline.
Understanding The Usefulness of Crow Skull Necklace
It's so difficult for most people to understand the usefulness of wearing a crow skull necklace and when to wear it. What I normally tell people is that you first have to know your body type. You have to know what is fitting for you and what's not. As we know, most people have different styles. They can get very unique or they can be very simple. So when you're wearing a crow skull necklace you want to make sure that it is complimenting your outfit.
Sometimes when you want to look sophisticated and mysterious while you're hanging out with your friends or something like that, you want to make sure that you're modest and simple all at the time. If you have a very strong collarbone this is your ideal skull necklace will fit your face perfectly. It also draws attention from people. A long necklace is perfect for this simple style or outfit.
What Crow Skull Necklace Represents
Let's talk a little bit about something as simple as the crow skull necklace, how it's communicating and where it's also drawing attention on your body. If I'm wearing a fairly black plain top and I'm wearing just a small, more delicate necklace it's got a real feature of my outfit. It's not something you really notice and so it's not doing a lot to draw attention to my portrait area and ideally, we want to always be drawing attention to our portrait area
So if you just take your necklace off and wear say a crow skull necklace, of course, it's going to draw attention to your neck. If you've got a long fairly slim neck, you can wear this necklace as it cuts up space if you have a very long neck. Skull necklace can be great to stop that length appearing long. Additionally, if you have a shorter or wider neck you'll probably find that a skull necklace is still your best option. It works with some necklines but not all of them.
Conclusion
If you're going to wear something long and you have a large bust, you need to draw attention to the bust area. You can wear something long, but you need to make sure you that there's a feature up higher. This necklace will look nice on people with a high neckline as it creates a lower neckline. This relates to the balance points where you want to have kind of one head links between the length of your face and where your necklace is.